As a proud member of the shipbuilding industry we continually strive to provide quality ships to our valued clients.
Our first objective as a small shipyard is to build our ships with great enthusiasm and skill in order to be the top preferred shipbuilder for our current and future clients.
Secondly we aim to be the safest shipyard possible by making sure everyone is alert ensuring no accidents occur.
Thirdly we promote a healthy and bright working environment for staff by cultivating teamwork and communication.
We only live once so we wish that everyone associated with Honda Heavy Industries can be proud to say they were involved in producing ships of the highest quality during their lifetime.
In 2006 Exeno-Yamamizu was involved in the take-over of Honda Shipbuilding Co. Ltd., which was established in 1924.
It has now been 12 years since that time and the establishment of Honda Heavy Industries. During this time the world economy suffered from the so-called Lehman Brothers collapse and the international shipping market also experienced prolonged hardship. Despite these challenges, we have been able to deliver 36 conventional multi-purpose, twin decker cargo ships for worldwide trading and 2 domestic Vessels in total and the business continues to run steadily. It gives us great pleasure in hearing clients' feedback that our Vessels have no vibration, excellent speed performance and they are built with great care and precision.
According to Japan Shipbuilding Industry Association data, the number of ships exported from Japan decreased by 80% in 2016 compared to the previous year and the sustainability of the export market to 2019 is an ongoing debate. Under such circumstances, the management policy, in the near term, has been to mainly focus our efforts on constructing the most high quality domestic Vessels possible. There may be challenges ahead but we are confident of overcoming these difficult times with the support of our stakeholders, clients, and subcontractors. We sincerely thank all of our stakeholders including but not limited to ship owners, shipping companies, shippers and business partners for your continued support.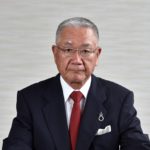 August, 2017
PRESIDENT KOJI USAMI