From the initial phase of steel cutting, through to preliminary processing and blocks assembling, ships are named and launched.
After the rope cutting event, triggers* are released on the slipway and
the ship starts to move silently into the sea.**
It is the cerebration of the birth of a new ship. You can see a real launching ceremony of S-1125 in the shipyard on 15 January 2020.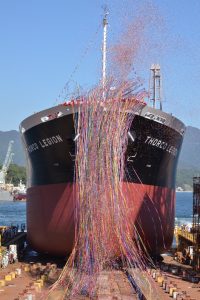 *Trigger:
An implement hooking the hull to the slipway, preventing the ship from slipping
**Our Launching is done the old-fashioned way by applying grease between the twin-launch platforms which allows the ship to pass elegantly and very close to the watching audience.
We are proud of that traditional way and believe it is the best ceremony in Japan.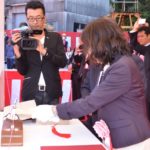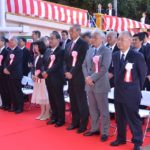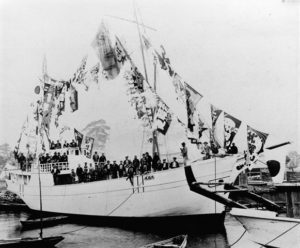 The photograph on the left is of the wooden cargo ship named Kyofuku-Maru which was delivered at Honda shipyard in 1930. Many people stood along the deck and the ship was decorated with chains of fishermen's flags wishing her future prosperity.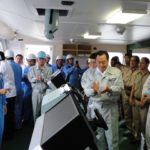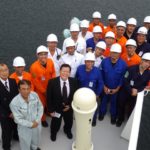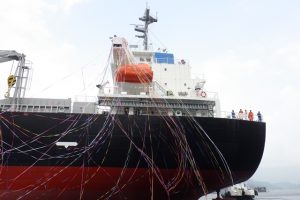 Eightyseven years have passed since then leading to the most recent deliveries of Themis Triumph / Monica which can be seen in the photographs on the left.

Over time we have developed our capabilities to meet market trends and client needs but our passion to deliver each ship proudly with a focus on our client's safe future voyages remains unchanged.
We strive to build quality ships honestly and carefully every day. We wish that the Vessel we deliver to our clients will become their treasure ship. "Bon voyage!"